Welcome to East Auto Body Inc.
Family owned and operated since 1976 in the same location in the city of Orange. When it comes to your Porsche, you want it to look, feel, and run like new. That's why East Auto Body Inc. provides the services you need to accomplish those goals. We only use quality Glasurit paints and primers. Our Quality, Price, Service and Reliability are unmatched. We offer lifetime warrenties, towing and rent-a-car service. WE SPECIALIZE IN REPAIRING HIGH END CARS LIKE PORSCHES, MBZ, BMW, and more.

Contact us today for more information on Porsche restoration & collision repair.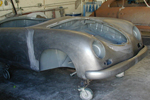 This was Chuck House's 1954 Speedster down to bare metal!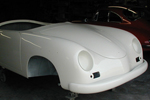 Here is Chuck's show winner painted.